Bhaktapur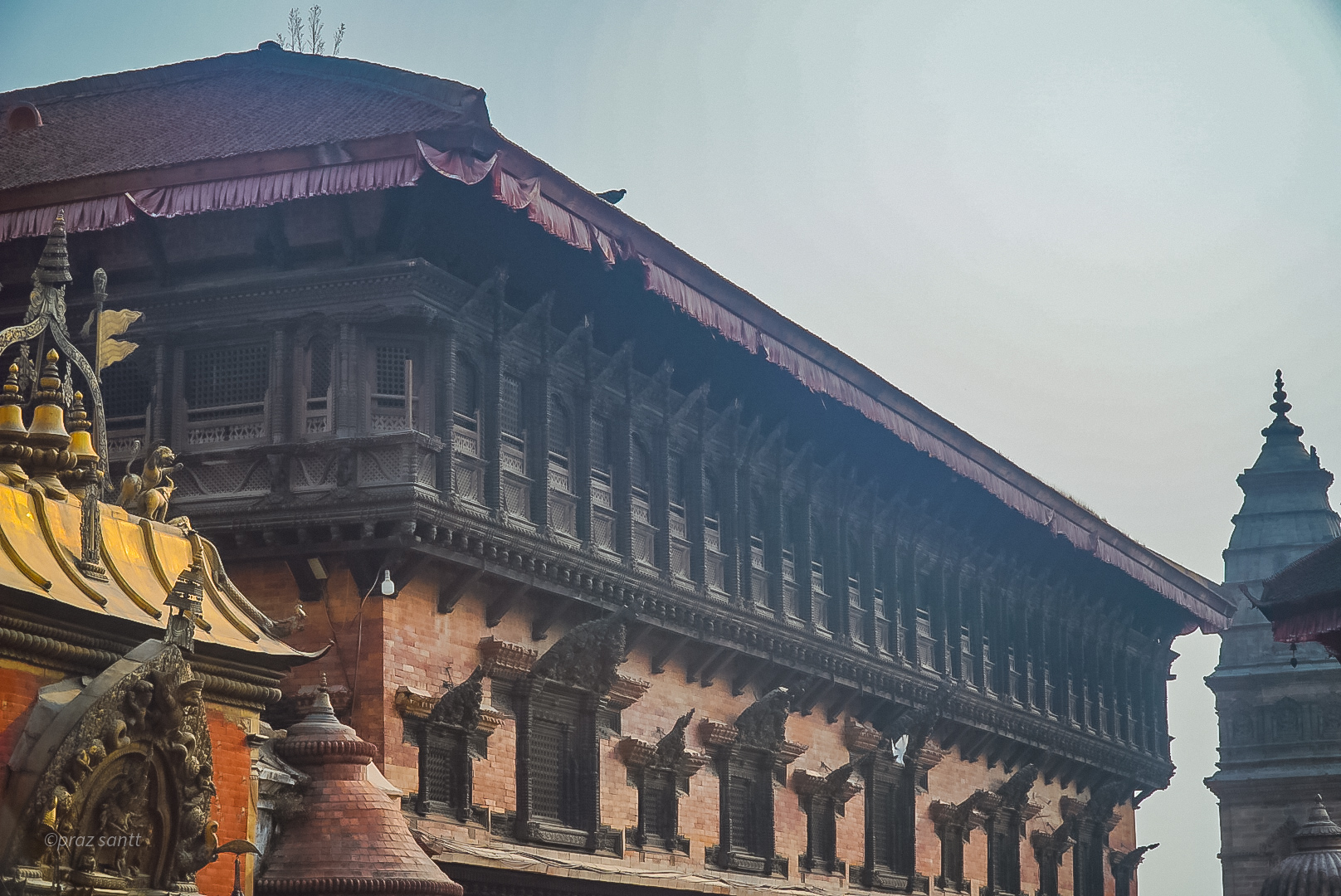 Bhaktapur Durbar Square is a museum of medieval art and architecture. It has many exquisite examples of sculpture, woodcarving, and colossal Nepalese-styled temples consecrated to different gods and goddesses. And, this marvellous city is just 15 km far from Kathmandu.
It is a conglomeration of Nepalese-style and Shikhara-style temples along with ages-old palaces like the fifty-five-window palace. The square is one of the most charming architectural showpieces of Kathmandu Valley as it highlights the ancient arts of Nepal.
The golden effigies of kings perched on the top of stone monoliths, the guardian deities looking out from their sanctuaries, and the wood carvings in every place-struts, lintels, uprights, tympanums, gateways, and windows all seem to form a well-orchestrated symphony. Besides arts, pottery and weaving are the major traditional industries in Bhaktapur.
Major attractions of Bhaktapur Durbar Square
55 Window Palace
This is the main architectural structure dominating the entire Durbar Square. This magnificent monument was built in the 15th century AD.
Golden Gate
This is the main entrance to the palace. It is an eternal beauty in itself. In front of the Golden Gate, there is a huge column on top of which the statue of King Bhupatindra Malla is seated.
The sculptures of Goddess Ugrachandi and Ugrabhairava
Right after entering the western gate of Bhaktapur Durbar Square, you will notice two beautiful stone statues of Hindu deities. They are installed on either side of another gate. Yet, they look perfect in that placement.
Pashupatinath Temple
Pashupatinath Temple, also known as Yakshyashwor Temple is one of the major Shiva temples of Bhaktapur. The temple was built during the 15th century.
Vatsala Temple
This temple dedicated to a mother Goddess is full of intricate works on stone. This temple is known for its dog-barking bell. This bell is believed to produce a death knell when it is rung up.
Other attractions of Bhaktapur
Nyatapola Temple (Five-storeyed Temple)
This is the most famous Nepalese-style temple in Nepal. Nyatapola in the Newari language means five tires – the symbols of five basic elements. This is the tallest Nepalese-style temple in Nepal. And, no other temple is ever built in Nepal with such architectural perfection and artistic beauty. This temple is dedicated to Sidhilaxmi, the tantric Goddess of supreme power and success.
Bhairava Nath Temple
This temple is dedicated to Bhairava the God of terror and death,
Besides sightseeing these monuments and temples, we can have a short drive to Changu Narayan temple (one of the oldest temples in Nepal).
We can also have an hour's drive to Nagarkot and spend time seeing the perfect views of spectacular mountains along with the perfect sunrise and sunset views.
Well, you can also check out our Bhaktapur tours where you'll undoubtedly go visit all the mentioned places. You can decide for how long and how much would you prefer to explore this ancient city. We have a Bhaktapur day tour. Likewise, we also have Bhaktapur 1-night and 2 days tour packages.